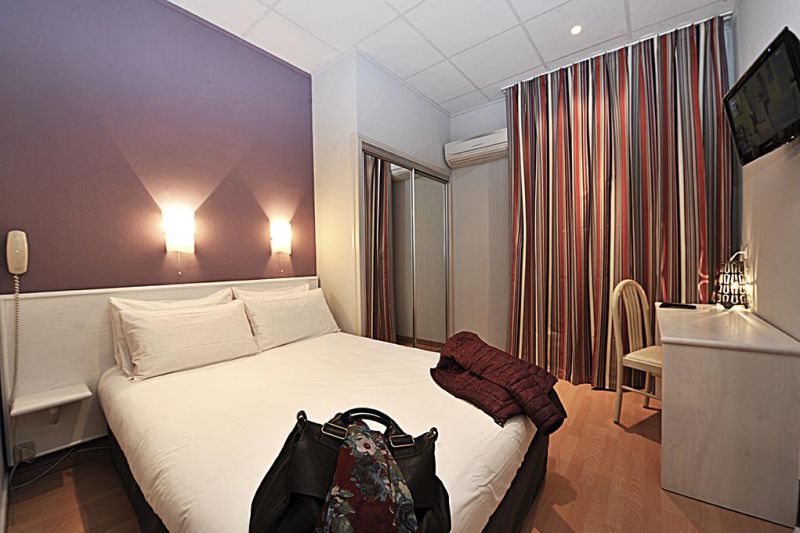 Our advantages
Swimming-pool

Near railway station
Our rooms
For your stay in Orange, enjoy the 32 comfortable rooms at Brit Hotel Le Louvre. Several types of rooms are at your disposal:
Standard room for 1 or 2 people
Comfort room for 1 or 2 people (twin or double)
Superior room for 1 or 2 people (twin or double)
Junior family suite for 1 to 4 people
All our rooms are equipped with a phone, a safe, a flat screen TV with Canal Plus and Satellite, a private bathroom and separate WC.
Enjoy our free Wi-Fi connection!

Parking : €8,00

Free Wifi

Canal+

Animals accepted : €6,00
Indice de
Satisfaction client
Type de chambre
Tarif du jour
Nombre de chambres
No availibility for these dates
If your dates are flexible
, here is what we can offer you :
Elsewhere
, here are our hotels available around the hotel of Orange
Orange
Near the hotel
- Railway station
- City centre
- Châteauneuf-du-Pape (10 km)
- Avignon (28 km)
- Gorges de l'Ardèche (25km)
- "Pont du Gard" aqueduct (30 km)
Access
From A7 motorway, follow directions to Orange city centre then to the railway station.

The hotel is located right next to the railway station (2-minute walk) and 5 minutes from the city centre.
The reviews of Brit Hotel Le Louvre
Indice de
Satisfaction client
We came as a group and everything was perfect

Hotelier's response :
Merci beaucoup pour votre gentil commentaire et vos superbes notes. Au plaisir de vous recevoir une prochaine fois dans notre belle région et merci encore Martine et patrick
Read more
Wonderful find, very convenient for the train and bus services , warm friendly welcome from helpful team clean comfortable rooms and excellent facilities, especially breakfasting in the enclosed terrace courtyard. Wonderful value for money breakfast is a must. Close the bistro Marius offer superb food and excellent service. Monseur et Madame Les Patrons area joy know and very customer service focussed.

Hotelier's response :
Thank you, thank you very much for your very kind comment and your appreciation. We were delighted to meet you. We look forward to seeing you again in our beautiful region and thank you again. Martine and Patrick
Read more
Wonderful find Of great value Hotel convenient with superbhOsts
Read more
A very positive experience!!
Read more
Very welcoming owners. Good info on the area. Rooms were basic but clean and spacious. Breakfast enjoyable too. Would stay again.
Read more
A nicely located place close to city center (walking distance) with good parking. Very friendly and attentive management! A very pleasant experience!
Read more
Very enjoyable - would recommend for anybody
Read more
It was pleasant. I assume that the people on reception were the proprietors. I enjoyed the welcome they gave and I also like general feel of the hotel =.
Read more
Everything very satisfactory, restful sleep, rich breakfast, a bottle of water in the room, very friendly owners trying their best to be great hosts for their guests.

Hotelier's response :
Thank you very much for your wonderful message and all your comments on our hotel which touch us a lot. Looking forward to welcoming you next time. THANKS martin and patrick
Read more